2nd Annual Here to Help Award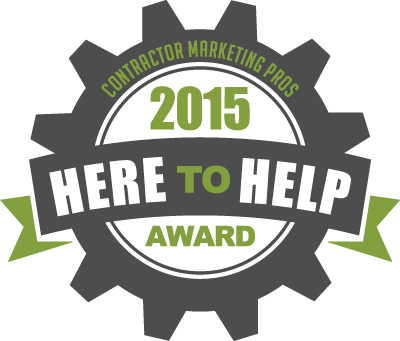 Contractor Marketing Pros is proud to announce the 2016 recipients of the 2nd annual Here To Help Award. These companies have consistently demonstrated exceptional phone ettiequte and professionalism throughout the past year.
We choose each recipient who embodies the following qualities we believe achieve the highest level of customer service:
Quality phone greeting that clearly states the company's name in a welcoming manner to the caller.
Consistently able to answer incoming phone calls in a timely manner.
Provides genuine and helpful information regarding caller inquiries.
Available to schedule appointments convenient to the caller.
In no particular order, here is a list of this year's recipients (The contractors in bold have received this award two years in a row!):
Ace of Spades Comfort, Inc.
American Air
Guardian Plumbers
PIC Home Pros
Those Guys Flooring
Coit Services of Jacksonville
Scott English Plumbing
NORTHSTAR Heating and Cooling
National Chimney Cleaners and Repairs
MVP Electric
Cool Air USA
FenceMaxx
Congratulations to every contractor on this list! You've shown a commitment to providing exceptional customer service and we're so proud to have you as part of the Contractor Marketing Pros family! Keep up the great work and we can't wait to see what you do next year!