Online Advertising For HVAC Contractors
When a home or business owner is experiencing a problem with their heating or air conditioning system they want to act quickly to get it resolved. Usually the fastest way to find help is by searching online, whether from their computer, their tablet, or their smartphone. It's important for HVAC contractors to have a comprehensive online marketing plan so that you can be found when a customer's need arises.
There are many complex aspects of running a successful heating and air conditioning business and sometimes online marketing gets pushed to the backburner. With more and more people searching online for heating and air conditioning services, it's critical to have a plan to reach these customers.
That's where Contractor Marketing Pros can help. We will take care of you online marketing so you can focus on growing your HVAC business. We use our proven heating and cooling websites and online marketing strategies to create and promote a professional image for your company that will help you get more business online.
We generate Inbound Heating and Air Conditioning Calls
At Contractor Marketing Pros, we have been helping heating and air conditioning companies grow their business online since 2006.
We take care of all the complex aspects of online HVAC advertising, including SEO, SEM, mobile advertising, and more, so all that you need to worry about is answering your phone.
We can tailor our services to fit your specific needs and budget, so whether you are an established HVAC company looking to drive as much volume as you can or if you are just getting started and desire a lower call volume, we will be able to generate new heating and air conditioning customers for your business.
How do we do this? Custom Conversion-focused HVAC Websites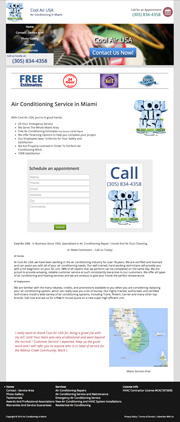 We will create a custom HVAC-focused website with you. You will answer questions about your business and fill out a Profile with images, coupons, warranties, and all of the data points that are important to a potential customer looking for your services. We use the Profile to create a Branded, conversion obsessed website just for you, similar to the one shown here.
Then we create Marketing and Ad campaigns based on the information you write in your Profiles. We take care of all of the creative and media creation for you in order to deploy Targeted Marketing campaigns that will drive visitors to this new site.
And we don't stop there, because instead of just being a Visitor, we only get paid by you when these new potential customers fill out a form or pick up the phone and call you. Pay For Performance is exactly what we mean - you pay us for Valid unique potential customers that contact you through our websites.